Abubila
Abubila was born from the unexpected encounter between a tandem paraglider pilot and his passenger. A passion shared by one, a passion born for the other.
Having the common vision of respect, quality service and fun, we have decided to share with you our passion for paragliding on this magical island of Lanzarote.
It is in the respect of our values with a sense of warm welcome that we will make you discover the magic of Lanzarote from the sky through paragliding that we love and practice.
The name Abubila is inspired by the Spanish name of a bird that can be seen on the Canary Islands.
It is endowed on the head with a plume of erectile feathers like a fan. It is unique, especially for the erratic flight that resembles that of a giant butterfly.
In classical Chinese poetry, the hoopoe is described as a heavenly messenger who often brings news about the advent of spring. The hoopoe is considered auspicious in China thanks to its unique beauty.
Our Passionate Paragliding Team in Lanzarote
At Abubila, we are a dedicated team of paragliding enthusiasts who share a deep passion for the sport. Our collective experience and love for paragliding drive us to provide unforgettable experiences for our clients. Our team members bring their unique expertise and backgrounds to enhance your paragliding adventure in Lanzarote.
Together, Miguel, Luc, and the rest of our passionate team are committed to sharing our love for paragliding with you. Get ready to embark on an unforgettable journey through the skies of Lanzarote, guided by our experienced professionals who will ensure your safety, excitement, and fulfillment throughout your paragliding experience.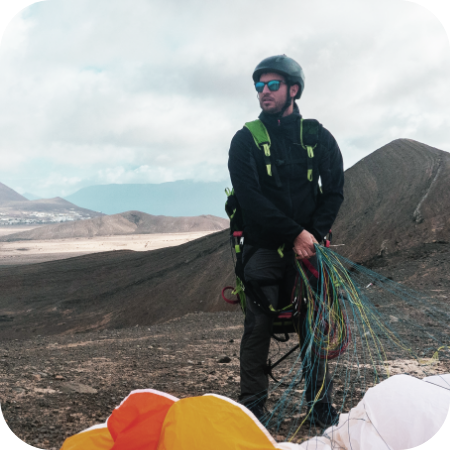 MIGUEL
The Local Expert:
The proud co-founder of Abubila. As a native of Lanzarote, Miguel possesses an intimate knowledge of the island's paragliding spots and hidden gems. With his strong connection to the local environment, he ensures that each flight captures the essence of Lanzarote's breathtaking landscapes.
Miguel's warm personality and extensive experience make him an exceptional guide who will go above and beyond to provide you with an authentic and thrilling paragliding experience.
He organizes and acts as a coordinator, guide and tandem pilot.
He have the ultimate spanish Sports technician paragliding title TD1
If you are lucky, he will make you discover the local beers and will concoct you a good and typical dinner as he is also a cook.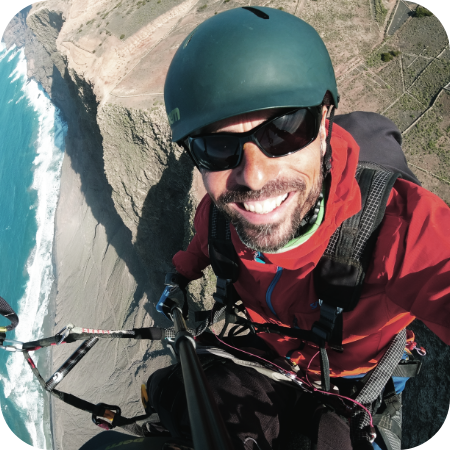 LUC
The Swiss Maestro:
A paragliding expert hailing from Switzerland. With over 30 years of paragliding experience under his belt, Luc brings a wealth of knowledge and Swiss precision to our team.
His expertise in the sport, combined with his meticulous attention to safety and technique, guarantees a smooth and exhilarating flight.
Luc's dedication to delivering the highest standards of quality ensures that your paragliding adventure in Lanzarote will be nothing short of extraordinary.
He is your guide and tandem pilot.
He speak french, spanish and english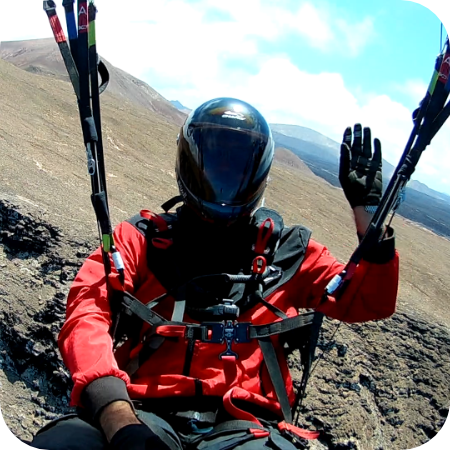 Fabio
The Enchanting Pilot:
Hailing from Italy, Fabio brings a touch of enchantment to your paragliding experience. With his background as an actor and illusionist, Fabio has a unique ability to make the earth seemingly disappear from beneath your feet, creating an awe-inspiring and magical flight.
Fabio's charismatic personality and captivating performances add an extra layer of excitement to your paragliding adventure in Lanzarote. As a skilled paraglider pilot, he combines his passion for the sport with his mesmerizing artistry to create a truly unforgettable experience for our clients.
Get ready to be amazed as Fabio takes you on a journey through the skies, where reality and magic intertwine.
He speak italian, spanish and english
In a pristine and untouched environment like Lanzarote, the importance of sustainability becomes even more apparent. We deeply value the natural landscape and strive to engage in eco-conscious practices. Paragliding is definitly align with our commitment to preserving the environment.
Regarding transportation, we have opted for a diesel vehicle instead of an electric one. This decision is based on the fact that the grey energy associated with electric cars is higher compared to conventional vehicles and the island's electricity production, due to political reasons, is currently irresponsible.
However, we are actively minimizing our reliance on vehicles for our activity whenever possible. By doing so, we aim to reduce our ecological footprint and contribute to the preservation of Lanzarote's natural beauty.
We prioritize respecting your individual needs and fostering a positive atmosphere. We genuinely listen to your preferences and strive to provide you with the best experience that align with your desires. Your satisfaction is of utmost importance to us, and we are committed to delivering a service of exceptional quality.
We maintain consistent pricing throughout the year, ensuring transparency and fairness. This approach allows us to sustain our operations effectively and compensate our dedicated employees fairly.
Sharing our passions in idyllic locations and leaving you with a lasting memory of your experience with Abubila is our goal.
We share our activities with pleasure in a relaxed atmosphere. Through new encounters and new experiences, we want you to leave with a smile, full of energy, and new friends.
LANZAROTE – the best of the Canary Islands
Lanzarote, located near the African coast, is known for its warm climate, beaches, and volcanic landscapes.
This island has an incredible diversity of scenery. Enjoy the beautiful beaches and crystal clear water of the south at Playa Blanca, or the wind-protected beaches of Costa Teguise and Puerto del Carmen.
Admire the red volcanoes and lava fields of Timanfaya National Park, the great surf waves at La Santa, the sandy desert (el Jable), and the surfing beach of Famara.
Hike the magnificent Caldera Blanca and Corona volcanoes. Further north, Haria with its 1000 palm trees, its spring flowering landscapes, or the white sandy beach of Orzola.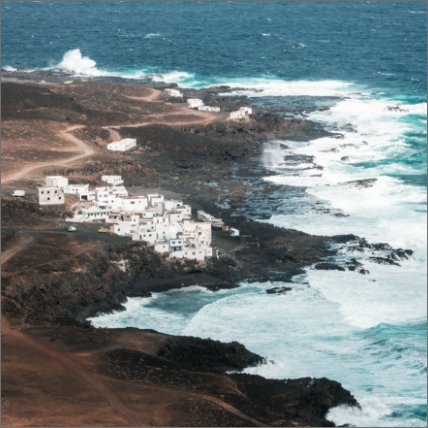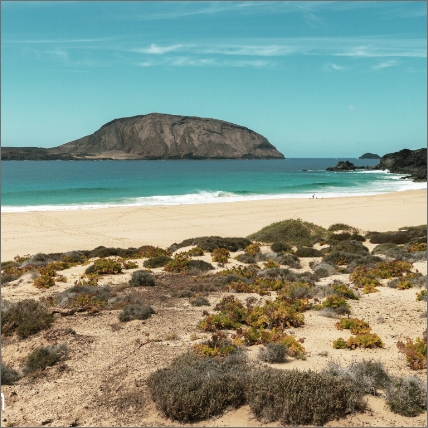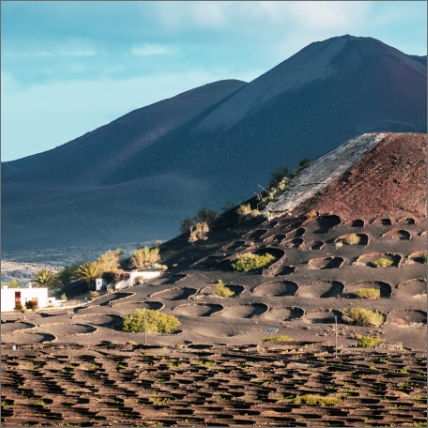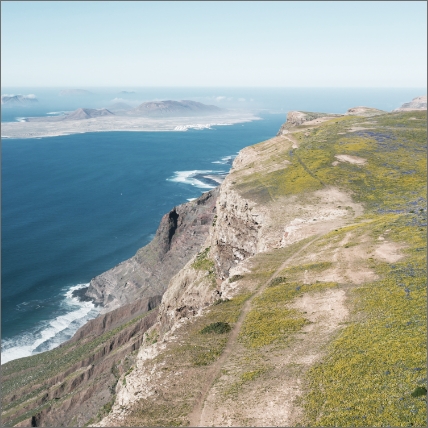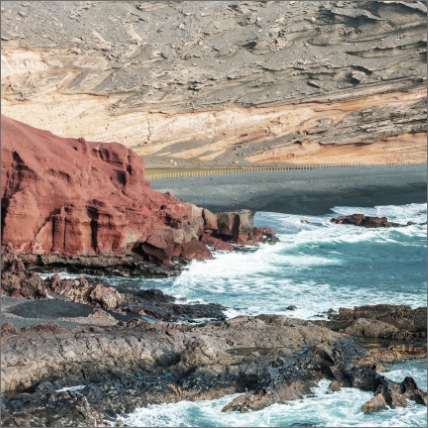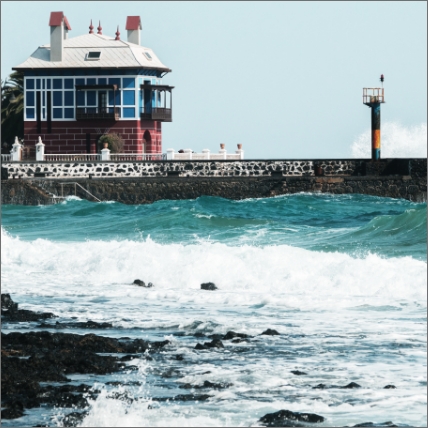 In terms of culture and architecture, César Manrique has left his mark on the history of Lanzarote.
Visit the various atypical places such as the César Manrique Foundation, the Mirador del Rio, Jameos del Agua or the Jardín de Cactus.
Lanzarote is an enclave for the development of all kinds of sporting activities, from water sports to air sports such as paragliding.
The weather conditions are ideal for sports all year round. From September to April, during the cold season in the north, there are endless activities to do in Lanzarote.
One example is paragliding, which is a key way to discover the island's incredible sites from the air.